Sign-Up!
Get email notices about upcoming programs so you don't miss any of our First Friday events!
Join Us Online
For 20 years, the Foundation has presented its First Friday program to a live audience. However, current health concerns have created the need to move the program into a virtual setting.
We will be broadcasting live on our Facebook page, or you can watch the video right here!
During the live broadcast, we will incorporate questions through the live stream comments (available on Facebook only).
As an added bonus, Facebook Live events are recorded so those videos will be available for on-demand viewing at any time. Click on past programs below for links to the recordings.
View our Facebook page (no account required)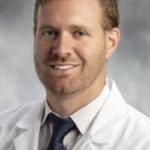 The future of back pain treatment is here today at OrthoOklahoma and Stillwater Medical: from switching off nerve-induced back pain like a light to spinal fusion and artificial disc replacement. Our comprehensive approach to pain includes the expertise of both orthopedic spine surgeons and pain management specialists who are skilled in the latest treatments.
Dr. Alex Detwiler offers the latest spine procedures, such as artificial disc replacement, an alternative to spinal fusion that reduces pain and maintains range of motion. He use minimally invasive techniques whenever possible, with a goal of getting you home sooner and back to the activities you enjoy.