Senior Sunday: Avery Littlefield
Written by 2023 Rippy Fellowship Recipient Avery Littlefield
There were two questions I would ask the medical professionals I was with each day:
Why did you choose to do what you do, and if you could go back and do it again, would you choose the same path? When it comes down to the root of all the answers, "helping people" was the catalyst that pushed everyone into the medical field. Through this fellowship, I have learned that all jobs within the hospital are vital to providing patients with the utmost care. From physicians, to volunteers, from the CEO, to the chefs, every person plays a part to create a perfectly functioning machine.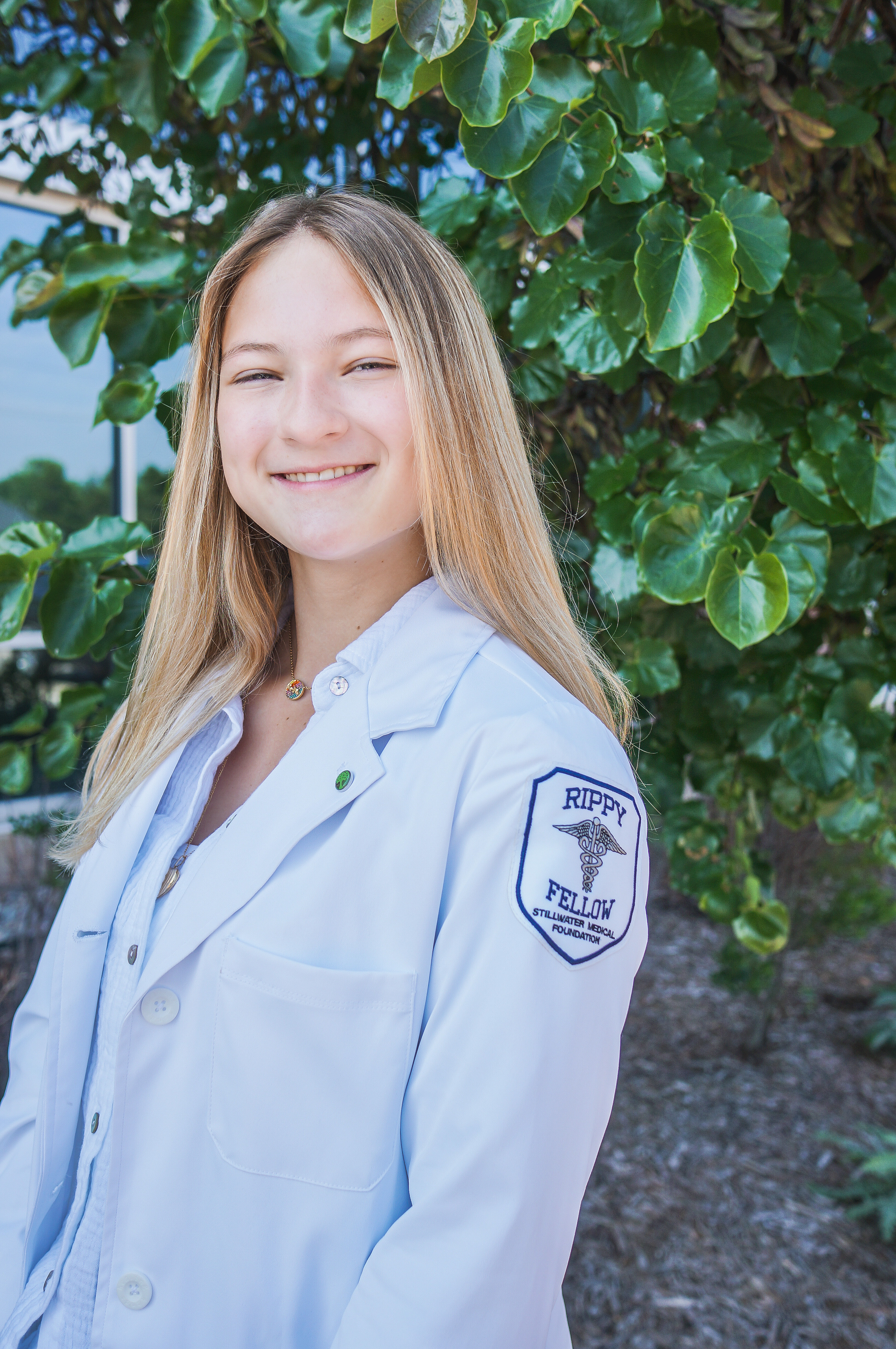 I spent the second day of my internship on the rehab floor. When I arrived, I was greeted with smiles and a schedule with my activities for the day. I was able to see all that the fourth floor had to offer: occupational therapy, physical therapy, group therapy sessions, nursing, x-rays with the speech pathologist, and I had meetings with both the case manager and the technical liaison. The fourth floor was amazing as I watched patients faced with difficult tasks portray incredible tenacity, all because the employees of the fourth floor were there to encourage them, and provide an environment where they could thrive.
With this fellowship, I was in a different area each day, however I looked forward to spending lunchtime with my dad, every day, in the cath lab. It reminded me of a time we were listening to music in the kitchen. "Cat's in the Cradle" came on and he explained how the song was a sore subject for him. It told the story of a man and his son, who had a divided relationship due to the father's absence in his son's early life because of his constant obsession with work. My dad explained that he regretted being on call and missing so many events of my childhood. This all came as a shock to me because not once did I consider my dad being absent in my life, he was always a constant I could rely on. This thought was reinforced when I came to shadow him in the cath lab. I was able to see all the world-changing work he was doing, and I was able to witness first-hand the lives he was impacting each day. My dad inspires me to become just like him by playing a part in changing the lives of others for the better.
Towards the end of my fellowship, I was in the OrthoOk Spine Clinic. I walked in to see a patient with Mr. Hafner, the physician's assistant. The woman waiting for us jumped up out of her chair and wrapped Mr. Hafner in a great big hug. Tears formed in her eyes as she described the immense pain she had been feeling before her surgery, how she was forced to sleep in a recliner because that was the only way to dull the pain she was experiencing. Then, almost sobbing, she told us of the exceptional relief she felt after the procedure. She repeated her thanks for Mr. Hafner and all he had done for her, and rising from her seat again, she not only gave him a second hug, but she embraced me as well. She didn't care I was just a student shadowing, she was grateful to anyone associated with Stillwater Medical Center, that was how large of an impact a few people had on this woman's life. Seeing her gratitude further cemented my resolve to become a physician one day.
I wish to be the change in someone's life, big or small. I am incredibly appreciative to have been honored with the Rippy fellowship. This summer has improved my view on the medical field as a whole, and if I had to tell you one sure thing I learned, it would be this: I will be a doctor one day.